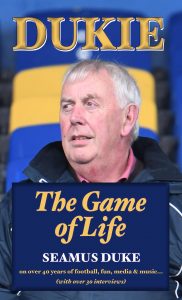 Chapter 1 from DUKIE…..The Game of Life
Published on 11th November 2020
Just as the open-top bus turned right at the junction of Athlone Road and Goff Street, the heavens opened. Up ahead in Main Street and The Square, there were at least 10,000 people gathered, maybe as many as 15,000. The thunder roared and lightning lit up the sky, embracing the town. The rain fell in stair rods from the night sky. Nobody cared!
As the bus inched its way into the centre of Roscommon Town, the primrose and blue flags fluttered, the crowd shouting, chanting and singing in jubilation. Sheer joy. Roscommon had won the All-Ireland minor football title. Adding to the sense of almost indescribable satis faction was the fact that they had beaten Kerry. They had done so in a memorable, magical replay in Ennis. On this night, the little matter of a thunderstorm wasn't going to interfere with the homecoming as the young Rossie heroes returned in triumph. Returned to their people. The Tom Markham Cup stood gleaming at the front of the bus.
For years Roscommon people had returned home from All-Ireland finals in Croke Park and other venues, heads bowed, hearts heavy. Envious, as others savoured All-Ireland glory. Roscommon is a great GAA county. We've had some success, but so often we've been the gallant losers.
There was always next year. Every year, there is next year.
Not this time. Not next year. Now. This year. This day. This night. Nothing that rain or thunder could change. This was a night of nights, the perfect wrap to a day of days.
Nobody saw it coming. Nobody knew such beauty lay ahead. When Kevin Higgins' attempt for a point looped over the Galway goalkeeper and ended up in the back of the net midway through the second half in the Connacht minor football semi-final on Saturday evening, the 24th of June 2006 (at Dr Hyde Park), even the most optimistic Roscommon fan could not have predicted what would unfold during that remarkable summer.
Fergal O'Donnell had taken over as team manager. Roscommon had been unlucky not to win the 2005 Connacht title, so maybe the base was there. Fergal recognised the growing potential. Wouldn't have taken the job otherwise. But it's doubtful that he saw the scale of the greatness that would reveal itself.
O'Donnell, then in charge of Boyle U-21s, was approached about the county manager's role by Roscommon minor board chairperson Brendan Cregg. The former county star was interested. He knew the minors had been unlucky in 2005. When he later accepted the offer, he drafted in a backroom team that included Stephen Bohan (who had been working with him in Boyle) and Decie Hoare (manager of Roscommon Gaels in 2005).
O'Donnell had come across Mark Dowd of Strokestown during a few great battles between that club and Boyle. James O'Boyle, a neighbour of Fergal's, joined on stats. James Bracken, described by O'Donnell as a great organiser, was brought on board too. Charlie Ward was a great help as secretary, as was Brendan Cregg. Ollie Kelly was also there with support, as were Fergal's good friends Ross Shannon and Liam McNeill. Good foundations.
In early 2006, expectations were modest. In three ominous challenge games, Roscommon were hammered by Armagh, and well beaten by Westmeath and Fermanagh. The Connacht Minor League campaign didn't offer much hope either, no sense that an open-top bus would be required. That league campaign saw defeats to Mayo, Galway and Leitrim, and a narrow win against Sligo. At least the performances began to improve as the provincial championship neared.
Fergal and his backroom team brought an impressive professionalism in terms of preparation. Analysis of the strengths and weaknesses of opposing teams was now on a level not previously seen in Roscommon. Things were being done right. Fergal knew the team was improving. He knew, because every detail was being covered, every effort made. Still, the champion ship performance against Galway in June, on the night of Kevin Higgins' goal, was little more than mediocre.
Fergal O'Donnell: "Galway were strong up front. They had a number of good forwards but they shot a lot of wides that night. They had Gary O'Donnell and Paul Conroy out in the middle of the field…an abiding memory of that game is that David Flynn gave a great performance and Mark McLoughlin was also excellent. The goal from Kevin Higgins was vital. We won in the end by four. I remember meeting Eamon McManus Junior after that match and he said to me 'any day Roscommon beats Galway or Mayo in the championship is a good day'. He was right".
Prior to the final against Mayo, Roscommon lost Niall Carty, injured in a challenge against Dublin in Kinnegad. He would return later in the year.
Mayo were favourites to win, but Roscommon were a revelation in MacHale Park, showing great intensity, organisation and skill. The Roscommon defence was magnificent, while Donie Shine was deadly accurate from the placed ball. Suddenly, guys like Peter Domican, Stephen Ormsby, Paul Gleeson, David Keenan, David O'Gara, Keith Waldron, Conor Devaney, Paul and Colm Garvey and Fintan Cregg were coming to the fore. Before summer was out, they would be household names – and heroes.
Roscommon's 0-12 to 0-9 win in that final was a tremendous boost, beating Galway and Mayo en route to a Connacht title a wonderful achievement. It was also a signal of intent, a subtle declaration of ambition. I remember interviewing Fergal O'Donnell at the full-time whistle. He wouldn't admit it at the time, but I knew that he knew that he had a great team in his care.
As a few hundred Roscommon fans swarmed on to the pitch to celebrate with management and fans, stewards soon discovered the day would be a bit more physically demanding than anticipated. Midst good humour and joy, the stewards had a busy few minutes, running left, right and centre as they tried to round up ecstatic Rossie fans. The urgency was down to the fact that the senior final was due to start. As far as many of the Roscommon fans were concerned, the day's main business was actually over.
Fergal O'Donnell: "James O'Boyle's dad had passed away that morning. James still came to the match with us which was a huge boost for the group. Pearce Hanley was Mayo's main player. But they had some other fine players like Tom Parsons, Donal Vaughan and Kevin McLoughlin. Hanley was outstanding. We were under pressure in defence that day but I remember Paul Gleeson having a stormer of a game after we switched him. Cian Smith came on as a sub and played well. David Flynn actually had a great game on Hanley. All the players on the team were beginning to come to the fore and develop. Conor (Devaney), Fintan (Cregg) and Donie (Shine) were super too, and we were managing to cope without Niall Carty. It was an unexpected win because Mayo had been in the All-Ireland final the previous year. To win in MacHale Park was a great achievement".
The journey continued. Tipperary were up next. The All-Ireland quarter-final was played in O'Connor Park in Tullamore. Roscommon encountered very few problems in a 1-12 to 0-6 win. Conor Devaney put a penalty away before half-time. It gave Roscommon some breathing space. Keith Waldron and Alan O'Hara both did well when introduced, evidence that the panel was getting stronger. The win was a comfortable one. There was a sense of real momentum. Now, crowds were travelling to support the team. Of the 2,000 or so present in Tullamore, the vast majority were from West of the Shannon.
Meath would be Roscommon's opposition in the All-Ireland semi-final at Croke Park, curtain-raiser on a programme that included Leitrim playing Louth in the final of the much-maligned Tommy Murphy Cup, and Mayo facing Dublin in the All-Ireland SFC semi-final. Croke Park would be packed to the rafters for this triple-header.
That minor semi-final was tense. Another Conor Devaney penalty was the key score, Roscommon prevailing by 1-10 to 0-9. Fergal O'Donnell: "We had several players who could have been man of the match that day. Paul and Colm Garvey, Conor Devaney, Fintan Cregg and Stephen Ormsby were superb. We got our match-ups right. Colm Garvey was marking Graham Reilly and had a great game. Our defence was excellent. Stephen Ormsby, Paul Gleeson and Niall Carty could all switch positions easily. David Flynn was always marking the best player in the opposition attack. Against Meath he was on Shane O'Rourke and he was super again. Not alone did he mark him but he was great driving forward too. Then we had Donie on the frees. He was nailing them all, and a lot of the 45s too. It was so important to have such a good free-taker".
Now the county had a team in a major All-Ireland final at headquarters on the third Sunday in September. It had been a long wait since the senior final in 1980. For that semi-final win, I was in the Hogan Stand. The press box was full to capacity because there were six different teams in action. Willie Hegarty and Donie Shine were on duty for Shannonside, and there were no extra seats for 'analysts'. When the minor match was over, hundreds of Roscommon fans gathered at the bar under the Hogan Stand. People were giddy with excitement. A final – 6 – – 7 – showdown with Kerry awaited. The realisation was beginning to hit home. It was some feeling.
The senior semi-final that day was probably one of the greatest games ever seen at the famous old stadium, Mayo coming back from the dead against Dublin, the mercurial Ciarán McDonald kicking a wonder score in injury-time to give them a sensational one-point win. What a day!
In the local media business, there is nothing that beats the build-up to an All-Ireland final, the biggest day in Irish sport. There was such excitement. Tickets were at a premium, although it was quite unbelievable how many Roscommon fans were able to source some.
In Roscommon, while many different sports are participated in and enjoyed, it's our county football teams that come closest to rep resenting our identity, who we are. Now everyone in the county, and Roscommon people worldwide, had so much to look forward to.
Of course we were outsiders. The pre-match narrative was predictable, and probably not unreasonable. Kerry don't lose finals. Especially against counties such as Roscommon. The Kingdom were hot favourites. Had our young heroes gone as far as they realistically could go?
***
On Sunday, 17th of September, 2006, Roscommon and Kerry lined up in the All-Ireland minor football final. On a beautiful day at HQ, the teams provided the capacity crowd with a fantastic spectacle. Kerry, graced with magnificent players like Tommy Walsh, Johnny Buckley and Paddy Curran, soared into a 0-7 to 0-2 lead early on. Kerry swagger and all that. Ominous. Thankfully, O'Donnell and his selectors made a few changes, and they worked. Resilient and determined, the young Rossies grew into the game.
Fergal O'Donnell: "I'll always remember we were five points down…David Flynn won a free through pure bravery and it gave everyone a lift. The second half was a superb contest. We played some mighty stuff in that second period and you know we had a few bad wides too. Once we settled we were well in it.
"We took off Mark McLoughlin and Kevin Higgins…bringing on Niall Carty and Keith Waldron was not weakening the team as most of the players were of a similar high standard at that stage. The panel was strong.
"I can remember towards the end of the game…Mark (Miley) went short with a kick-out…he gave it to Paddy Curran and he put it over the bar. If it was a goal at that stage we were in big trouble. But Mark Miley had a magnificent championship and never conceded a goal all year, which was some achievement".
It was close, very close. Ecstasy or agony? When Kerry corner-forward Curran kicked a point in injury-time to put the Kingdom into the lead, high up in the press box, my heart was pounding. Was it going to be another heartbreaking day in Croke Park for Roscommon?
Then Donie Shine faced a '45. If he converted it, the teams would be level, and extra-time would follow. Hearts in mouths time. Despair as the ball fell short. Roscommon a point down. Tension then as the ball broke to a Rossie. Suddenly it was in the hands of David O'Gara, just to the left of the goals at the Davin Stand end of the ground. Time seemed to stop still as the cool Roscommon Gaels man cleverly poked it over from a narrow angle. Scores level, 0-15 apiece. A dramatic end to a tremendous game of football. Replay. The Rossies were still alive.
Fergal O'Donnell: "I think it was David Keenan who won the ball when it broke from the '45 and he kept it alive. What a swivel and shot from David O'Gara to get the score. It was class.
"There was a strange kind of a feeling after the game. I remember my father (Derry) saying to me sure wasn't it great to draw with Kerry in an All-Ireland final. We were still in it and now we knew that we could be competitive with them".
This time I was in the press box in the Hogan Stand, reunited with a breathless duo, Willie Hegarty and Donie Shine. The press box is on the 7th floor in Croke Park. When the game is over the media are brought in a special lift down to the dressing room area for the post-match interviews. The minors tog out under the Cusack Stand and the media have to walk in the service tunnel under the vast stadium which surrounds the pitch to get to the dressing room area.
It took a while to get everything done and dusted over at the Cusack Stand side of the ground. As the senior game between Kerry and Mayo had started, I could hear the cheers of the crowd. But from where I was, I couldn't see any of the actual play. Could Mayo break their duck against the mighty Kerry?
I got into the lift in the Hogan and went back to the 7th floor. There were 12 minutes gone in the senior game. When I glanced at the scoreboard, it read Kerry 2-4 Mayo 0-0. I looked at Donie Shine.
"Jesus, is there something wrong with the scoreboard?"
"No nothing at all. It's dead right, this game is over".
It was too. Kerry, led by the majestic Colm Cooper, ran through Mayo with ease. It was another desperately disappointing day for Mayo in an All-Ireland senior final.
The GAA authorities had chosen Ennis for our minor replay, just six days after the draw. Roscommon fans who couldn't get tickets for Croke Park could now breathe more easily. The capacity of Cusack Park was about 18,000, and expectations were that five or six thousand people would be the maximum attendance. Little did any of us know what was about to happen.
The game, fixed for 3 pm on the Saturday, was being shown live on TG4. That meant little to Roscommon people. They had taken this team to their hearts. They wanted to be there. In the flesh. One of Roscommon's greatest GAA men, Fergal O'Donnell, was the inspirational manager, and the will to win and never-say-die attitude of the players had endeared all involved to the supporters. Roscommon is a small county and not many people outside its borders realise just how passionate we are about Gaelic football. The following for the game in the county is massive.
This was now a communal odyssey.
The Saturday morning of the replay was dark and murky. The entire Duke family left Roscommon Town at about a quarter to ten. Many thousands of Roscommon people were beginning the same trek. The game was well down the weekend's national sporting agenda as the Ryder Cup was taking place at The K Club in Kildare, in front of the world's sporting media. Never mind. We had our own date with destiny.
It was clear, early into our journey, that something very special was happening. This was a pilgrimage. A constant line of cars was making its way southwards. In Gort the traffic was bumper to bumper, and it wasn't even noon!
We got a parking spot in Ennis shortly before 1 o'clock. The scene there was simply amazing. There were Roscommon people everywhere…walking, in the pubs, in shops, chatting on street corners. Rossies here, Rossies there, Rossies everywhere. It was the closest thing to a spiritual experience outside of a religious setting. Like Moses leading his people to the promised land, Fergie O'Donnell and his team had brought an entire county (almost) to Ennis.
My wife Teresa and I and our four young daughters were very fortunate to get seated in the corner of a pub/restaurant. It was chaotic, in a positive feelgood way. Ennis was certainly not prepared for the friendly invasion it was experiencing. The sense of occasion was special.
At about 1.30 pm I left to go down to the pitch. Teresa and the kids were heading for the terrace opposite the stand. I joined Donie Shine and Willie Hegarty for the Shannonside commentary in the radio box, a cramped little room situated on top of the main stand. Brian Carthy was covering the game for RTE Radio and was accompanied by the then Tyrone manager Mickey Harte.
As the throw-in time neared, the scenes were remarkable. Roscommon fans piled into the stadium, a meandering primrose and blue human chain. If the capacity of the ground was 18,000 then there were surely up to 16,000 Roscommon people there.
Reports started to emerge via overworked mobile phones that thousands of Roscommon people were stuck in traffic jams on their way into Ennis. There were some great tales told afterwards of people abandoning their cars at 3 o'clock to get to the nearest pub to watch the match on TV.
Eventually the throw-in came, and with it mounting tension. No hiding place now. Roscommon started on the front foot. They dominated the play but struggled to put Kerry away. David O'Gara scrambled in a goal just before half-time. Roscommon's dominance finally told in the last ten minutes with a string of unanswered points. Donie Shine was fantastic, but every player on the field that day played a part.
Fergal O'Donnell: "It was a nervy, edgy game all through. I was only happy when the final whistle went, to be honest. We got a lucky break for the goal but they came back again after that and got a few scores. We finished the game well. Donie Shine and Niall Carty were great and Alan O'Hara and Cathal McHugh came on to clinch the win. The defence in particular did well that day too. Every player in that group was a fantastic footballer. We didn't know that at the start of the year but as it went on they all developed. They were superb. Almost every one of those lads went on to play at a very high level for years after and many are still playing".
It was only with a few minutes to go that it began to dawn on me that we were actually going to win this All-Ireland title. I thought about my late father and how much he loved going to Roscommon matches. I thought about my brothers, Frank and Declan, both of whom had played for Roscommon at all levels. I thought of all the great Roscommon players, many of them personal friends of mine, who had never won an All-Ireland title despite years of trying. I became emotional and felt the tears welling up. It was probably unprofessional to be heard in that state on the radio, but would we ever have a day like this again?
The final whistle saw the raw emotion of so many years of disappointment manifest itself as Roscommon people raced onto the pitch to acclaim these young heroes. Soon the entire playing area was covered with Rossies, young and old. Many a tear was shed as the reality of the achievement dawned.
In the midst of the mayhem, Fergal O'Donnell tried to do an interview with RTE's Jim Carney. Usually reserved and cautious, Fergal wore the grin of a man who understood the enormity of this. As a joyous chaos unfolded around him, Fergal spoke about his pride and sense of achievement.
When I got to the dressing room, I was one of a couple of hundred people present in an area designed for maybe 30 or 40. Bedlam. The players were mobbed, people hugging one another and screaming with joy. Dermot Earley had a grin as broad as the River Shannon on his face. This legend of Roscommon football was overcome with emotion.
"What a great day" he said to me as we embraced. I don't think I had ever seen him as excited. One of the finest GAA men we ever had was in tears on this memorable day in the Banner County. He was not alone.
Barry Molloy was there too. Barry captained Roscommon when they won their last All-Ireland minor title, way back in 1951. Former players from every era who represented the county with distinction over the years joined in the celebrations. Officials, team managers and selectors milled around. No one was in any hurry to go home. Roscommon had beaten Kerry in an All-Ireland final. Were we dreaming or was it real?
Fergal recalls the madness that unfolded after the final whistle. "The scene out on the pitch was unbelievable. To look out on a sea of Roscommon people was savage. There were just so many people there to share in it all. It was brilliant.
"Any of us would have said at some stage it would be great to win an All-Ireland when we are young – and of course you are hoping it's going to happen – but deep down you have doubts.
"Then when we got back to the dressing room Dermot Earley was there and that was a huge thing for us and for the players as he had been a great help to us during the year. He was such an inspirational figure.
"Then when we came out afterwards I remember that Gay Sheerin's mother (a mighty Rossie fan) was there and my own family and mother and father were there and Niall (his son) wanted to come with us on the bus! It was a great feeling of contentment".
An hour after the final whistle had blown, there were still hundreds of Roscommon people out on the field, anxious to savour every minute of an historic day.
We left Ennis at about 6.30 that evening. Teresa and the kids were so excited. I was thrilled that they had been part of one of our greatest days. On the way home the traffic was still crazy. It was long before the advent of satellite navigation, and I took what I thought was a short cut. To this day I still can't remember what way we came home, but even though it seemed like we were driving for hours it just didn't matter. Nothing would dampen our spirits that evening.
Seamus Maher's name flashed up on my phone. The County Board Secretary asked would I act as MC at the homecoming for the team in The Square in Roscommon town later that night. I could barely get the words "of course I will" out of my mouth! What an honour it was to be asked. I been there to see this wonderful Roscommon victory, now I would be the one to welcome the team back into the county town, the cup in their embrace.
When we got back to Roscommon at about 9 pm, the town was already buzzing. In the Church Street Station pub, which I was co-leasing at that time, a huge crowd had gathered. The atmosphere was sensational. Replays of the match were on a loop on the TV, the fans cheering every score. Des Whyte, a mighty Oran man, a great friend of mine and sponsor of the Roscommon team, was in the bar with friends. I had never seen Des as excited or emotional.
The team had been to Padraig Pearses, then to Clann na nGael in Johnstown, then in Kiltoom. In Knockcroghery, they called into Roscommon's finest, Jimmy Murray. It was an emotional call too as the great Jimmy held the cup aloft in his famous bar. More tears were shed. Fergal O'Donnell: "We travelled around the country to get home that night to try to avoid the traffic. Our bus driver was a guy called Sean from Mayo and he was great craic. He was with us for most of the year and the lads liked him. We stopped at Pearses and then at Johnstown, in Kiltoom and then in Knockcroghery. We were listening to Shannonside on the bus and there were requests coming in from all over the county, which was great. But little did we know what was waiting for us when we got to Roscommon Town".
The open-top bus was ready at Dr Hyde Park to bring its young VIPs to The Square. When news came through that the heroes were in town, the cheering started, and the heavens opened. Tears of joy.
I was incredibly proud to introduce Fergal, his selectors and the players. The huge crowd roared. The captain, David Flynn, spoke brilliantly. Roscommon people had travelled in their thousands to Ennis. They had seen this great Roscommon team lift the Tom Markham Cup. Now they were home.
Fergal O'Donnell: "We were totally taken aback at the size of the crowds. We were kind of worried, because these were minors after all, and we had a responsibility to look after them as a management team. The speeches went off great and we saw what it meant to people.
"We went down to the Royal Hotel after that and the players could meet their families. There was actually a strange sense of emptiness when we got into the hotel, because that was it. It was a rollercoaster year of training, matches and meetings – and we were always looking ahead – but we had won it and now it was all over. Still, it was a fantastic night.
"We were together for the presentation and we had a great 10th anniversary reunion but the feeling out on the pitch in Ennis and in the dressing room afterwards and the reaction in Roscommon town that night, words just can't describe it".
When the formal homecoming was over, I went back to the 'Church Street Station' pub. It was still packed. Des Whyte and several friends were still there, holding court in the front bar. As the night went on, we relived every minute of the action. I have never seen so many happy people in the same place. Songs were sung and stories were told. A truly magical night.
Much later (early morning) the Guards called to the front door. It was Seargent Charlie McDonnell, himself a great GAA man. "Come on lads it's time to stop serving" he said – and he was right. The day was over. Except, not quite. I rang Larry O'Gara in Rockford's Nightclub, to see if there was 'anything happening'. Larry said to come down, but not to bring anyone with us.
Des Whyte had an obliging driver at that stage. There were still thousands of people on the streets as our car inched along, its occupants refusing to let this night escape.
Entering Rockford's via the back door, we quickly met up with Fergal O'Donnell and some of the backroom team. The hours passed quickly. Soon it was morning. I didn't want that day to end. What's seldom is wonderful.
Fergal O'Donnell is a very modest man who has always paid tribute to his fellow selectors and the players when that epic year of 2006 is recalled. I will leave the final word to one of his star players, Conor Devaney.
Looking back on that famous win and the meticulous preparation that Fergal introduced into their training regime, Conor, speaking in 2019, said: "He was great. He was going into things in far more detail in terms of opposition analysis and our own analysis than a lot of other managers would have been at that level at that time. I think that's something that stood to us, even when it came to the two All-Ireland finals against Kerry.
"We had done a lot of work on opposition kick-outs, all of the stuff that is nearly second nature to teams now, but which I don't think would have been common back then, certainly in the minor grade. It was the first time I ever came across it. The players really bought into it. He was a great man to have in charge".
Fergal played a massive part in a day and a campaign that we will never forget.
Meanwhile, back in Roscommon, that day and night finally ended. But they live on in our hearts, and will do so forever.
The Roscommon team that lined out in the drawn game against Kerry was: Mark Miley; Paul Gleeson, Mark McLoughlin, Stephen Ormsby; Peter Domican, David Flynn (captain), Colm Garvey; David Keenan, Kevin Higgins; Conor Devaney (0-5, 1 free), James McKeague, Donie Shine (0-6, 4 frees); Paul Garvey, Fintan Cregg (0-1), David O'Gara (0-2). Subs: Niall Carty for McLoughlin, Keith Waldron (0-1) for Higgins, Alan O'Hara for Garvey, Cian Smith for McKeague. The Roscommon team that lined out in the replay in Ennis was: Mark Miley; Peter Domican, Paul Gleeson, Stephen Ormsby; Niall Carty, David Flynn (captain), Colm Garvey; David Keenan, Donie Shine (0-6, 4 frees); Conor Devaney (0-1), James McKeague, Keith Waldron; Paul Garvey, Fintan Cregg (0-1), David O'Gara (1-1). Subs used: Cathal McHugh for McKeague, Alan O'Hara (0-1) for Garvey.
Just over a year after Roscommon won that thrilling All-Ireland title, Cian Smith from Boyle was diagnosed with throat cancer. He was treated at St. Vincent's Hospital. There was a huge outpouring of concern and goodwill for Cian as he battled for his life. Large crowds attended masses in Boyle and throughout the county to pray for the young man. Thankfully he made a full recovery. The bond that that minor team had established with the people of Roscommon was clearly evident during that dark time. Cian has since got married (to Michelle). As I write, he is manager of the Boyle senior football team. He comes from a fantastic GAA family. His father Mike, or 'Junior' as he is probably better known, a great friend of mine, was a prominent player for Boyle and Roscommon. His brothers Enda and Donie have been Roscommon stars for most of the past decade and nicer lads you could not meet.
Further details on 086-8335380 or from PKSupplies.ie