2020
For most people the past year has been the year from hell. Little did we know when we were coming home in the car from the Connacht U-20 final in Tuam in March that in the space of a week everything would have changed.
The advent of the virus was not the fault of anyone here in this country but the way we have dealt with it will have the most serious of implications for many people for many years to some and it is not being talked about hardly at all.
Firstly is has to be said that the bottom line is that the advent of the virus has not affected a large cohort of the population at all. In fact there are people, particularly those in the public sector, and there are many others in the private sector too who have actually benefitted financially from the arrival of the pandemic. And by the way, I say good luck to them too.
These are people whose pay checks are guaranteed every month or who are working in industries which have not been affected at all. They have not been able to spend their salaries on things like holidays, restaurants and other non essentials and so many are far better off financially.
However there are hundreds of thousands of others (and I am in that category) who have been mostly out of work since. There are many businesses which have closed since March and they will not be opening again too.
I am not ignoring the severity of this disease or indeed the people who have lost loved ones as a result of it's arrival. It is a horrible and infectious and dangerous virus but there are many consequences of this pandemic that are not being spoken about at all. All we are interested in is case numbers and lockdown details.
The amount of mental health problems rife in the community is huge and we have seen a spike in suicides in recent months and people withdrawing from society altogether.
Personally I am aware of many people who are living alone and who are in despair as this situation drags on. I am also aware of people who have businesses who are convinced that they will never open them again and they are at their wits end.
The doctors and the people in the HSE have a very difficult job to do and in the past nine months there is a cohort of medics who are now household names because of their influential roles in the way we deal with this virus.
They have a huge and very important role to play, but putting these people up on a pedestal and suggesting they should be named 'people of the year' is ridiculous. A lot of these people have presided over some of the biggest medical disasters in the history of the state in the past decade, which is conveniently forgotten about by many. They are paid huge money for what they do and their decisions have profound implications for every member of society. Their input is vital but at the end of the day they are advisors only.
The real heroes are the frontline staff like the nurses and doctors, who are dealing with sick people every day of the week. They deserve the praise and not the celebrity doctors.
I am certainly no follower of any political party but I have a lot of sympathy for the position of the authorities at the moment. The Government has to have public health and safety as a priority but they have also to consider the economic implications of every decision they take. They are in a no-win situation whatever they do. Make no mistake when all this is over there will be an economic mess the likes of which we have never seen in our lifetime. It will take generations to sort it out.
The vaccines are the biggest hope for all ordinary members of society and I sincerely hope that we can get this roll-out right. Past experience of the HSE running very important public health initiatives is not very encouraging. But let's not criticise before the campaign is up and running.
My heart goes out to young people in all this. People in the older age groups are well able to look after themselves and have had their fun over the years but the younger people's lives have been ruined over the past 10 months. For that group alone I hope we can return to normal as soon as possible they have missed out on so much.
To all the people who lost loved ones this year, it has been a terrible ordeal that no one could say goodbye properly. There is a lot of pent-up grief among the population as a result of this.
Apart from family, sport and music have kept me sane this year. Out walking every day, to be able to listen to some great tunes instead of the daily diet of doom and gloom on the news programmes is a great relief. The sport was also a God-send. It was brilliant to have been involved in the streaming of the local club championship games here in the county and fair play to the GAA for running their inter-county championships at all grades too. Kit shortened the year
To be able to watch the Soccer, Rugby, Golf, Horse Racing, and all the other sport was a tonic for me and for most of the country. Hopefully we can get to go to a few sporting events in 2021.
I for one will not be one bit sorry to see the back of 2020.
It was truly the year from hell.
Stay safe people.
************************************************************************************************************************************************************************************************
CONNACHT GAA DOME SPECIAL REPORT
A unique development deep in the West of Ireland
In the Autumn of 2018 I attended a Connacht GAA launch of a new development they were planning called an 'Air Dome' which was to be constructed at the Centre of Excellence complex at Bekan outside Ballyhaunis.
The plans looked impressive but I suspect that I was not alone that day in dismissing this as just another 'new fangled idea' that sounded great in theory but maybe not in practice. How very wrong I was.
The idea was to build a full size GAA pitch indoors that not alone could stage Football and Hurling matches up to adult level, but it would be a training and fitness centre and much more too, and that would be available 24 hours a day 7 days a week.
Last week in the company of Connacht GAA Games Development Manager (and Roscommon senior player) Cathal Cregg, who was also one of the prime movers behind the new facility, I toured the new dome which is now fully finished. Put simply, it is stunning.
It takes a lot to render me speechless, but this new 'Air Dome' is the finest sporting facility that I have seen in any country never mind here in Ireland. I know there is nothing like here and I doubt if there is anything like it anywhere in the world. In fact it is the largest sports air dome to be found anywhere on the planet. It is a very simple concept. The dome is blown up by air provided by three big generators, and the building is airtight all the time. But to see it in reality it is some feat of construction and engineering.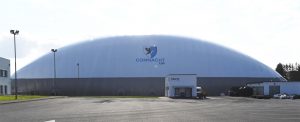 It's the brainchild of Connacht Council Secretary John Prenty and former Games Development Manager (and Roscommon team manager) John Tobin. The project was taken on by Cathal Cregg and others and it was finished this year. In fact the Connacht Council got the keys of the new facility just last Friday week.
Cathal began by telling me the history behind the development "It was always in the Connacht Council plans to develop and indoor arena to play games in. The idea at the start was that it would be a solid structure, but the GAA pitch dimensions are just too big for that. But Prunty Pitches saw this idea at a road show and they approached John Prenty. Then we looked at a smaller version in Castlebar which is over a couple of tennis courts, and the idea took off from there. About 18 months ago myself and John (Prenty) went to Finland to look what they had in the north of the country and we saw one dome that was 20 meters shorter and 20 meters narrower and 6 or 7 meters lower."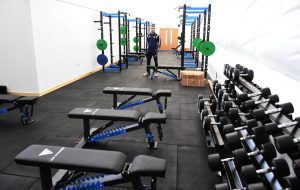 "This building here is 150 meters long by 100 meters wide and it is 26 meters high. The pitch is 130 meters by 80. It doesn't look that high, but I can tell you a lot of people have tried to hit the roof with a football and they haven't succeeded yet."
"You can play a full game of football or hurling here and there will be 600 seats down along one side for spectators and that can be increased in time too."
Cathal explains the concept behind the huge building. "The building is air tight and there are three generators to keep it inflated. It takes a lot to actually inflate the building but once it's up it takes only one generator to keep it going."
"The doors we came in are revolving doors so no air gets out and there are big doors where you can bring in lorries etc with equipment, but there are two doors for that and an air corridor in between. But if you lose any air it automatically re-inflates to it's full pressure."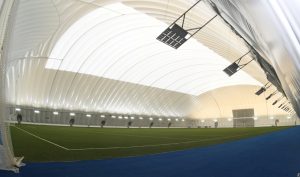 There is magnificent floodlighting system that reflects the light upwards and means that there is no glare on players during a match. "They tell me that the floodlighting system is 1000 lux and to put that into context you need about 750 lux for live television"
There is a large translucent section in the roof which allows in natural light which is also unique. "The translucent section is much bigger than the one we saw in Finland and it has worked out great and it will cut down on costs too."
The magnificent pitch is covered in the latest synthetic grass as Cathal explains. "This is the latest 4G surface. It is from a company in Sligo called SIS who do a lot of pitches for FIFA worldwide. It's a much better than the old synthetic surfaces when players could get 'burn' injuries from sliding on it, but that won't happen on this pitch. It's the most modern design available."
"This is the biggest sports dome in the world. There may be bigger constructions but none specifically for sport."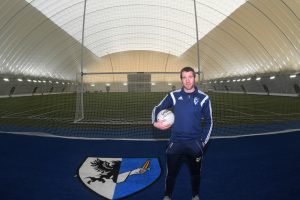 (Article for The Roscommon People. Photographs from Michael McCormack)
************************************************************************************************************************************************************************************************
ALFIE'S BOYS 1966 DOCUMENTARY REVIEW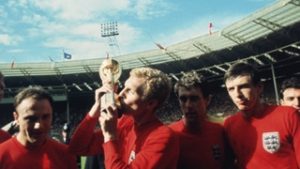 Fascinating documentary on BBC2 about the England World Cup winning team from 1966.
A lot of the players have now passed away but it was brilliant programme. Alf Ramsey was a unique manager who would never be swayed by public opinion or the media. He had probably the best goal scorer in world football in Jimmy Greaves in the squad and although Greaves was injured during the tournament he was fit for the final but Ramsey didn't pick him, opting for Geoff Hurst instead.
The rest as they say is history.
The programme featured extensive interviews with Greaves who never really got over being left out for the final. Even after 50 years the pain was clear for all to see.
It was also fascinating to see a very emotional Bobby Charlton express his frustration at being asked to man-mark Franz Beckenbaur in the final. It was a totally new role for him and 50 years later he shed tears as he told of not being able to fully participate in the final in a creative way. Incredibly the German management had also asked Beckenbaur to man-mark Charlton and both players cancelled each other out on the day.
But there was so much other stuff covered in the programme such as the apalling treatment the the wives and girlfriends of the players, the dislike that Alf Ramsey had for the media, the new phenomenon of matches being live on TV, the savage tackling that went on in most matches and the incredible leadership shown by a few of the players notably Bobby Moore.
Top class stuff