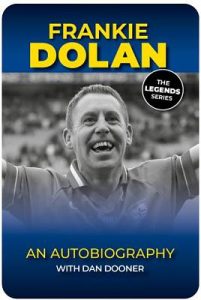 OUTSIDE OF THE RIGHT- FRANKIE DOLAN TELLS HIS STORY
In any conversation about the best Roscommon footballers over the past 25 years Frankie Dolan would have to be near the top or indeed at the top of those rankings. The St Brigid's and Roscommon forward was a brilliant player for club and county and he had a wonderful playing career.
But it is only when reading his autobiography 'Outside of the Right' (written with the assistance of our own Dan Dooner) that one remembers just how colourful a career it has been both on and off the field. But in the end it was his talent as a footballer that shone through and there are many great stories from Frankie about some of the biggest days in Roscommon and St Brigid's football history over the past quarter of a century and some off the field incidents too which makes it a very memorable memoir.
Even Frankie himself will admit that over the years he fell foul of officialdom both on and off the field. Yes, there were some people whom he felt let him down over his career but his passion for the game always shines through.
Having played mostly Soccer for various clubs, including Athlone Town and Bohemians until he was 17 he settled for Gaelic Football with St Brigid's and Roscommon.
The breakthrough for St Brigid's to win the senior championship in 1997 evokes fond memories for Frankie in his first year playing senior. "We won the minor in 1996 and myself and John Tiernan and a couple of others were brought into the senior squad."
" The club got in John O'Mahony as manager and it was a great appointment. He trained us very hard and we ended up winning the championship. We beat Clann na nGael in the final by a point. We were lucky enough in the end. Paul McManus was inured for Clann and it was probably fitness that got us through that day. But it was a huge win for the club." It was a first senior title for Brigid's in 28 years.
Another very interesting assertion in Frankie's book is his admiration for Gay Sheerin who he says was the best and most passionate Roscommon senior team manager he played for during his career. "I was so sorry for Gay the way his tenure finished up (defeat to Leitrim in the Connacht Championship in Dr Hyde Park in 2000). We should have been 12 to 15 points up at half-time that day and we collapsed in the second half. That loss was certainly not Gay Sheerin's fault. It was down to us players on the field. We let him down. He took the blame for that defeat and it was very unfair."
"All Gay Sheerin wanted was the best for Roscommon football and that was unlike some of the other people that managed Roscommon over the years, who probably wanted the best for themselves. I know that you always have a soft spot for the manager who brings you in to the county set up, but Gay was a great Roscommon man. I have great time for him "he said.
One of Roscommon's most memorable wins in the past 25 years was the dramatic last minute victory against Mayo in the Connacht final in Dr Hyde Park in 2001 and while the details of that match are well known, one thing that I was just made aware of in the book was that the Roscommon players actually walked out to Dr Hyde Park that day from the Abbey Hotel. "It was great craic to be honest. We walked out the Golf Links Road. There was great banter from the supporters and I think it made the players more relaxed. I think it was a great idea but you wouldn't see it happening today."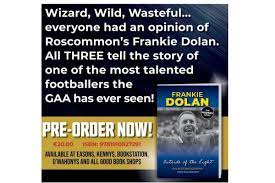 Even though Frankie had so much success on the field for club and county the book would not be complete without a reference to the infamous 'naked pool' incident in Derry which made national news at the time and which led to the disbandment of the senior football panel. Frankie says that the whole saga was handled very badly by the county board. "The county board and the team management could have tried to sort something out at the time. Look, it is something that should not have happened, but having said that I have seen things a hundred times worse over the years. What we did was probably stupid but it was harmless. But the full blame was heaped on just two players (Frankie and Nigel Dineen) and we didn't get any support at all."
"I didn't go to the meeting when they disbanded the team but I knew what was coming. It was an easy way out for the county board to blame the players. That whole thing really annoyed me."
"I was injured then after that and had an operation (shoulder) and was really down in the dumps. I was unemployed and I went off to Australia for six months in 2002 and it was the best thing I ever did. I cleared my head, I did a bit of training and I was ready for action when I came back for 2003 and I had the hunger back."
That year was Frankie's best in a Roscommon county jersey. Roscommon under Tommy Carr went on a run in the qualifiers and Frankie weighed in with some sensational performances scoring 12 points against Offaly in Mullingar and he followed that up with an even better performance scoring 0-13 against Kildare the following week. Many people saw Frankie as a shoo-in for an All Star but it didn't happen. Frankie was disappointed but is philosophical about it. "We had a good year as a team and I played well but it was just one of those things."
On winning the club All Ireland in 2013 Frankie says that the team were building every year in terms of experience and the All Ireland semi-final win against Crossmaglen in Mullingar that year was one of the most intense championship games he was ever involved in. "That was the day when we really won that All Ireland. They (Cross) were such a great team. That was some game. There was everything in it. There was great play, rows, hard hits, great scores, a huge crowd and incredible intensity. It was brilliant stuff and probably the best big game that I ever played in. To beat Crossmaglen and then beat the Dublin champions in the final to win an All Ireland was some achievement and one that I am very proud of."
Frankie says that mental health is a huge issue for players and he maintains that thankfully there is help for players out there now but that was not the case when he was involved and especially when there was any controversy. "In 2002 there was absolutely no help out there at all (after the pool incident). If that happened now it would be a totally different situation and there would be plenty of people there to help. But at that time myself and Nigel really suffered and it was very unfair. There was no one there to give us advice or to chat to us about it at all. We were totally hung out to dry. I mean I left the country as a result of what happened because I couldn't put up with the hassle. I never realised what I was going through until I spoke to someone about it. I went to a counsellor and it really helped me I have to say and I was able to move on afterwards. People's mental health is a very important issue."
Needless to say that Frankie is not content to slip into the backround over the next few years. He is involved in the development of a revolutionary new sports aid called the 'Ball Hive Pro Rebounder' which can be used as a training aid by teams playing any kinds of ball sports. He has teamed up with Fergal Kelly for this new venture. "There has been huge interest in the rebounder and we have had interest from a couple of Premier League clubs in the UK and we are hoping to develop the product for use in the UK and USA as well as in Ireland. The covid situation has held us up but we are hoping to get back on track soon."
Frankie has enlisted the help of well known Ballyforan man Padraig Kelly help distribute his book. "Padraig is a great guy, an Aidan's man who is now living in Kiltoom and he has loads of connections and contacts throughout the country and he will be a great asset to me to get the book out there. "
Frankie continues to ply his trade as a very popular postman and lives in Roscommon Town with his wife Caroline and sons Ryen and Jack. He says he decided to write the book to give people an insight into what the real Frankie Dolan is like. "It's not something that I was ever interested in but several people were asking me to do it and when the lockdown came I thought it might be a good way of passing the time. A lot of people have a perception of what kind of a person Frankie Dolan is but people that know me know what I'm like and that this tries to set the record straight." He concluded.
What's included in this interview barely skims the surface of what is a cracking good read. If you have been a follower of Roscommon club and county football and want a different perspective told with striking honesty and clarity then I recommend this highly and I wish him the best of luck with it.
'Outside of the Right' the Frankie Dolan Biography by Frankie Dolan and Dan Dooner is on sale now at all good book shops and online and is priced at 17.99 Euro.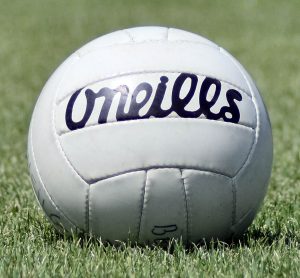 (From The Roscommon People)