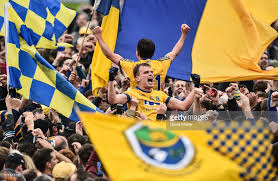 The following is a chapter from my book- Dukie The Game of Life published in November 2021
THE STORMING OF SALTHILL
Memorable 2017 triumph
You would think as a person gets older that they will become calmer and more measured about things. Maybe we do. I think it applies in many aspects of life, but unexpected success – especially involving Roscommon football teams – is something I still get very excited about. That happened (again) in July of 2017 when Roscommon won the Nestor Cup, and as comfortably as any of us had ever seen them win it over the years. It was the first title win in the West for our seniors since 2010 – and was totally unexpected. It was one of the greatest victories I've observed in my time going to Roscommon matches. Not alone did Roscommon win Connacht, but they travelled to Pearse Stadium and beat Galway by no less than nine points.
The signs from the National League had not been promising, Roscommonsuffering some unmerciful hammerings. Division One is an unforgiving place if your team is even a little less than at its best. Being well beaten by Dublin and Kerry is no disgrace, but the heavy losses to Mayo and Monaghan were a worry.
Following a 'winter of discontent' Kevin McStay was now the sole manager of the team. After a well publicised spat, he and Fergal O'Donnell and a couple of the selectors had gone their separate ways. Now it was down to McStay to steer the county's fortunes.
McStay decided that after the experience of 2016 when the team performed brilliantly in Division One before flopping spectacularly in the championship, it was time for a new priority.
The Rossies didn't train too hard for the league and paid the price in that competition.When the 2017 league campaign came down to the last game, Roscommon, who hadn't even one point on the board, and were already relegated, faced Cavan, who needed a win to give them a chance of escaping the drop. The game was at Dr Hyde Park and it would prove to be the outing that launched Roscommon's season.
Kevin McStay: "2017 was always going to be a difficult year after what had happened. People would have seen Roscommon as relegation candidates anyway, but the margin of the defeats against Mayo and Dublin in particular was very worrying and as we were going into the championship we had nothing to hold on to.
"We needed something against Cavan so that the crowd going away could say 'well maybe things might be improving'. It was actually a good game of football and we deserved to win it".
Roscommon's 1-13 to1-10 win didn't create too many ripples nationally, but it was a huge morale-booster for the team. Cavan were trying for their lives as a victory would have meant escaping demotion. It turned out to be a very competitive game. Roscommon put in a good second-half display, with a goal from Cathal Compton the key score.
Kevin McStay: "We knew that we hadn't a lot of work done so that win was a plus. Earlier in the year we had a lot of sorting out to be done in terms of the panel and I had to appoint a new backroom team. Ger Dowd came in as a selector and he was a key appointment. I got David Joyce in to do strength and conditioning as well and his role was crucial too".
The Mayo native knew that he was under massive pressure to deliver following the falling out with Fergal O'Donnell.
Kevin McStay: "It was very difficult. I mean the county was split down the middle after what happened with Fergal. The reality was that we were preparing for matches with a lot of the county almost willing you to fail. It was a very difficult environment to be working in, to be honest".
The Connacht Championship draw had worked out nicely for Roscommon. A win in the semi-final against Leitrim would set up a Connacht final against one of the big guns as Mayo, Galway and Sligo were all on the other side of the draw. There was a nice run-in, so being well prepared was quite realistic, unlike in 2016, when the league and championship took a lot out of Roscommon, with the chaos of a trip to New York also thrown in.
It has to be said that expectations amongst the supporters were fairly low for the championship season given what had happened in 2016. Twelve months previously a number of great wins in Division One were followed by heavy defeats at the hands of Mayo and Kerry. The signs of impending disaster were probably there to be seen in New York when the team were extremely lucky to escape by a point in Gaelic Park after what could only be described as a bizarre championship game.
The cracks were somewhat papered over in 2016 when Roscommon disposed of Leitrim and Sligo with relative ease. Even when a late Donie Smith point gave the Rossies a draw with Galway in the Connacht final in Pearse Stadium, there wasn't much sign of an implosion. But it came.
Galway ran through Roscommon like a dose of salts in the Connacht final replay at MacHale Park. Six days later in the qualifiers Clare deservedly put the primrose and blue out of their misery on a day to forget at Pearse Stadium. Nothing went right for Roscommon.
Kevin McStay: "The draw worked out nicely for us in 2017. It was unlike 2016, which was 'bananas'. We had to play in New York two weeks after we played a league semi-final. In fact we played that league semi-final on a Sunday and ten days later we were in New York and we played championship football every two weeks after that. Then we had a replayed Connacht final and we played Clare in the qualifiers six days later. It was chaotic, to be honest".
The lesson from 2016 was that while it was great that Roscommon were in Division One, the effort required to stay there proved very costly when it came to the championship. At that stage it was felt that Roscommon simply did not have the panel to be competitive for a whole season at such a high level.
Kevin McStay and his selectors made a conscious decision to prioritise the championship. With relegation confirmed, the team began their preparations. Leitrim were very much in focus.
On the 18th of June on a fine day at Dr Hyde Park Roscommon hammered Leitrim by 2-23 to 1-9 to set up a Connacht final meeting with Galway, who had beaten old rivals Mayo in the other semi-final. That game againstLeitrim was unremarkable. Roscommon were in total control and won very easily.
Kevin McStay: "I was delighted with how we played in the Leitrim match. I saw Kevin Walsh (the Galway manager) down at that game and I remember thinking with 10 or 15 minutes to go when it was over as a contest that he will go away in the knowledge that we will score if we get chances. I knew that he would be a little more frightened of our attack after that match and that he would have to take more caution defensively in the final and that would be good from our point of view. We kicked some mighty scores that day".
For the second year running Galway had beaten Mayo in a major championship match. This time Mayo had Keith Higgins sent off and the home side edged them out by a point, 0-15 to 1-11. It was Galway v Roscommon in the Connacht final for the second year in a row.
Of all the venues that we go to year in year out, Pearse Stadium in Galway is the one that I (and many Roscommon fans) dislike the most. Even before Galway became such a big city with massive traffic problems, it was frequently hard to get in and out of Pearse Stadium. I always preferred going to Tuam for a match against Galway. I know Tuam Stadium hasn't changed much over the years but there is a charm about the place, even to this day. It's a real football venue.
Roscommon have had far more bad days than good ones at Pearse Stadium over the years. We don't win there much, and we certainly don't relish the journey. The traffic is generally chaotic and a trip that ought to take a little over an hour can last up tothree hours. Parking options are limited, and the fact that Galway city is always so busy – especially during the summer months – adds to stress levels. Essentially Pearse Stadium is a major ground which is situated in the middle of a housing estate close to one of the busiest beaches in the country.
Even though a Connacht final against Mayo in Castlebar is what most Roscommon fans were dreading at that particular time, the fact that the Rossies had to travel to Galway to face the Tribesmen, who had beaten Mayo for the second year in a row, meant that expectations were tempered. Painful memories of a thrashing handed out by Galway in MacHale Park in that replay 12 months earlier were fresh in the mind. Of course Kevin McStay and his players were preparing quietly.There were some excellent players on the Roscommon team. The defence was marshalled by Seanie McDermott, a fantastic servant to Roscommon for well over a decade. David Murray, John McManus and Niall McInerney were super defenders. Sean Mullooly was finally beginning to realise his potential and Conor Devaney was playing the best football of his senior career. He was to have a marvellous game in the Connacht final.
Tadhg O'Rourke and Enda Smith were operating at midfield. O'Rourke was diligent and hard-working and Smith was beginning to show his undoubted class. On his day he is a superb player. Up front there were several notable attacking talents. Ciarán and Diarmuid Murtagh are top class score-getters, and with the experienced Fintan Cregg and the hard-workingNiall Kilroy in the half-forward line, it was a potent mix.
In addition, two young guns, Brian Stack and Cian Connolly, would add sparkle to the attack. Despite a number of players having opted out of the panel that year, Kevin McStay and his selectors still had the likes of Ian Kilbride, Donie Smith, Colin Compton and Shane Killoran to call upon off the bench.
Kevin McStay: "The preparations were going to plan. We knew we were playing well. Although expectations were low, the pressure was on me personally because I knew if we had a bad campaign I would be gone (as manager). Inside the camp we were working very well. We went away for a weekend to Johnstown House (Estate) and we did a lot of great work there. We played Meath in a challenge match and put in a great first half that day. I knew after that game that we were ready.
"Our big message in the build-up to that final in our camp was that Galway would not see us coming. We had been relegated to Division Two, they had been promoted to Division One, and the momentum was always with them…and they had also beaten Mayo. It's human nature after all. But the train you don't see coming is the most dangerous of all".
Travelling alone, I left the house in Roscommon Town at 9 am on the morning of the final. I parked in the official car park at about 10.30. There were very few people around at that stage. Aware that I had lots of spare time, I walked down to the seafront in Salthill. There were plenty of signs on the promenade that there was a big game coming up. Several Roscommon cars were on the road and Roscommon jersies abounded in the cafés and restaurants. I went into one café and had a mug of coffee and a sandwich. There was nervous anticipation in the air.
Soon it was time to head to the stadium. Even though it were very early, there were still familiar faces in the press box in Pearse Stadium, including Ian Cooney, Noel Fallon and Michael O'Brien of the Roscommon Herald. There are separate radio and newspaper sections and Willie Hegarty and his Shannonside crew and all the rest of the local and national radio stations were, as usual, in the area 'next door'. The press box would be packed, with local and national journalists in attendance.
It was a blustery day. Every so often there were light rain showers. Conditions were not ideal and it was a day similar to the previous year when Roscommon drew at the same venue. I have to admit that I had travelled more in hope that confidence. Galway had beaten Roscommon easily in the 2016 replay. Could we really make up that difference in a year?
From the minute referee David Gough threw in the ball it was clear that Roscommon were not in Salthill for the day out. Three quick-fire points from the Murtagh brothers (Ciarán with two, Diarmuid with one), saw the visitors settle in well. McStay's men were putting huge pressure on the Galway kick-outs, and it was paying rich dividends. Galway were struggling, with only Shane Walsh really showing up in attack. By the 14th minute Roscommon were 0-6 to 0-2 ahead. The rain came down heavy and so did referee Gough –
on any ill-discipline. Yellow cards were flashed around liberally.
Kevin McStay: "We all agreed in the build-up to the final that no Roscommon player would take a step back that day. The previous year we had chances to win the (drawn) final but we were a bit too cautious. We brought the whole team into the Abbey Hotel the night before the match. It was just the players together. The management team were not there overnight but we all had a meeting at about 7pm and we all agreed that if we were to lose, we would go down fighting like dogs. We also agreed that if Galway took their eye off the ball we would not allow them to come back into the match".
In the 15th minute, Roscommon scored a peach of a goal. Diarmuid Murtagh's laser-like 40 metre pass reached Cian Connolly inside the Galway cover and the Roscommon Gaels man found the bottom corner with a brilliant shot from the 13 metre line. It was a class score.
Kevin McStay: "I have been around footballa long time and that was one of the really great Connacht final goals. The pass and the finish was as good as you would see in any match".
While Galway missed a couple of chances before half-time, Roscommon were dominant. The Rossies shot a total of nine wides in the first half and still went in leading by 1-7 to 0-3. It was an assured and confident display to that point. The shock was on.
McStay felt that the match should have been over by the break. His team had scored a fantastic goal but they'd had a few wides, and should have been even further ahead.
Up in the press box the Roscommon contingent were pleasantly surprised about what we had seen, while still remaining cautious. Galway would have the breeze at their backs in the second half.
Surely there was a kick in them? They could hardly be as ineffective as they had been in that torrid opening period. The general consensus was that while Roscommon were in a great position it wasn't over by a long shot.
Kevin McStay: "The lads solemnly swore at half-time that they would not take one step back in the second half. I was afraid that we might retreat into our shell. Galway had the wind, and our lead, handsome as it was, was not an impossible one to make up. We knew that we had to score a second goal. We knew they were shook, and if we got another goal they would fall asunder".
It looked like our fears might prove to be justified when Galway scored the first three points of the second half. But just when it looked as though the home side might assume control, Roscommon knocked them back on the canvas. In the 42nd minute young Brian Stack claimed a brilliant mark out at midfield. Instead of stopping to take the freekick, the St Brigid's man continued his run and planted a super low shot past Ruari Lavelle. It was another great goal. Now we were beginning to believe.
Galway were in trouble, and although they kicked five points in a row to reduce the margin to four, it was Roscommon's day. A number of inspirational points settled matters. When Shane Killoran kicked the final point of the game in injury-time, the Rossies had claimed their 23rd provincial title, winning by a whopping nine points.
With about a minute to go Kevin McStay left his post on the sideline and ran down the tunnel. Afterwards he revealed he had done it so he could compose himself. It was a huge day for him personally. Having taken over the team on his own, he had now managed Roscommon to one of their best ever Connacht final wins.
Kevin McStay: "It was my greatest day ever in the game from my point of view. It is very seldom in management that you can stand there in the final five minutes of a big game and soak it all in. I was still worried but Liam (McHale) said to me 'relax, this is over'. It was such a big win for the group of players who had worked so hard. The overriding feeling was one of immense joy. This was a young team and they had performed on the biggest stage".
The atmosphere on the pitch after the game was unreal. Thousands of Roscommon fans jumped for joy and invaded the pitch for the presentation. Boyle's finest, Enda and Donie Smith, were lifted shoulder-high. Those images were to appear in national newspapers the following day. Ciarán Murtagh, a brilliant captain, lifted the Nestor Cup high after receiving it from Connacht Council President and Elphin man, Mick Rock. After all the years, and all the disappointments at that venue,it was a great feeling. I will readily admit that I didn't think we'd conquer Galway that day, but we did.
Kevin McStay says that in a long career in the game he has never experienced an atmosphere like the one in the Roscommon dressing room after that game.
"The sheer joy in our dressing room after that match was incredible. In fact we had a job to get the players in off the field. Of course there was a massive Rossie invasion and there were people everywhere. The provincial title means so much to everyone in the county. To have won a Connacht final by nine points away from home was a massive achievement".
The long journey home didn't really matter that evening,now that there was a Connacht title in the bag. Roscommon town was hopping when I got back. I parked up the car and headed for P Kelly's Bar. It was packed. You could feel the buzz. A crowd of young guys in the corner started to sing and chant. We were Connacht champions for the first time since 2010. It was a mighty win and an ever better feeling.
The phone was beeping non-stop as friends and family texted to share the excitement. Twitter and Facebook were full of compliments for Kevin and the players. A Connacht senior title is always welcome, but when it is unexpected –and claimed in Salthill – then it is particularly special.
Kevin McStay: "That was my greatest day in football. It was way ahead of winning the All-Ireland club final (with St Brigid's). This was senior inter-county football at the very top level. I had played with Mayo and managed their U-21 team, but this was sheer joy on a different level. When we were in the dressing room afterwards it was really special. If Brink's-Mat came that evening to take the cup they were not getting it because it was ours.
"The bus journey home was fantastic. We got a great welcome in all the clubs areas – Pearses, Clann, St Brigid's and in Knockcroghery – but the welcome we got in Roscommon Town was something I will never forget. It was fantastic. The players deserved it. They won the Connacht final in style playing some brilliant football. Even though we would eventually lose to Mayo in a quarter-final it was a fantastic Connacht Championship win".
While there was no official homecoming, thousands of people were in Roscommon Town to meet the players when they disembarked from the Club Rossie bus in Main Street. We headed for Down The Hatch later that night. People were in great form. The only silence came when The Sunday Game showed the highlights and the analysis followed. Every Roscommon score was cheered to the echo. Kevin McStay was there himself and so were many great Roscommon GAA people. It was a very special win and a very special night.
The Roscommon team who beat Galway by 2-15 to 0-12 on that famous occasion was: Colm Lavin; David Murray, John McManus, Niall McInerney; Seanie McDermott, Sean Mullooly, Conor Devaney (0-3); Tadhg O'Rourke, Enda Smith; Fintan Cregg, Niall Kilroy, Brian Stack (1-0); Cian Connolly (1-1), Diarmuid Murtagh (0-5, 3 frees), Ciarain Murtagh (0-3, 2 frees). Subs: Ian Kilbride for Fintan Cregg, Donie Smith (0-2, 1 free) for Diarmuid Murtagh, Colin Compton for Ciarain Murtagh, Shane Killoran (0-1) for Brian Stack.
Two years later, in 2019, and under our new manager Anthony Cunningham, Roscommon won the Connacht title again. The highlight of that win came in the semi-final when a never-say-die Roscommon beat Mayo by a point in MacHale Park (2-12 to 0-17) in what was a thrilling match. Fintan Cregg scored the winning point in injury-time. It was the first time since 1986 that Roscommon had beaten Mayo in the championship in Castlebar. It was another really special win for the Roscommon seniors. For those who were there, seeing Roscommon defeat Mayo in Castlebar was something we will always cherish. In the final, Roscommon once again went to Pearse Stadium and beat Galway, this time by 1-13 to 0-12. While the 2020 and 2021 seasons were ultimately extremely disappointing, the Roscommon senior team has been making good progress in recent years. Hopefully they can now kick on and become competitive at All-Ireland level, especially with the emergence of several talented U-20 players in 2021.
We keep believing, and we certainly keep following.
DUKIE The Game of Life can be purchased in various shops in Roscommon Town- or contact Seamus Duke – and it's also on sale on buythebook.ie