Connacht Senior Football Final 2019
Roscommon 1-13 Galway 0-12
The Verdict
"Most of the important things have been accomplished by people who have kept on trying when there seemed to be no hope at all."
Those are the words of American writer Dale Carnegie. They apply perfectly to Roscommon's wonderful senior football team who turned in as fine a second half display as this observer has seen in championship football from the Primrose and Blue. It landed them the 24th provincial championship and further enhanced the reputation of this group of players as a really special team who have given wonderful entertainment and excitement to their loyal fans over the past four years.
At half-time in Pearse Stadium it looked bleak, very bleak. The Rossies had competed well for the first quarter but as the torrential rain came, Galway tightened their grip on proceedings and by half-time they led by five points and looked in total control. In fact with the aid of the elements to come in the second half many Roscommon fans were hoping that it would not be a drubbing at the hands of the Tribesmen. Anyone who tells you that they thought Roscommon would win at half-time is not telling the truth.
However, deep below the stands in the Roscommon dressing room, all was calm at half-time. There was no panic, no roaring and shouting, no harsh words, just a request from the management to the players to up the intensity and work rate. What happened after referee Barry Cassidy blew the whistle to start the second-half will go down in Roscommon folklore as long as Gaelic Football is discussed.
Roscommon were simply a different team. They worked like tigers all over the field. They pushed the Galway men out of the way time after time. Suddenly the men in Primrose and Blue were winning kick outs, turning over the ball in their favour and laying siege to the Galway goal.
Within six minutes the sides were level. What was all the fuss about? We could hardly believe our eyes. Niall Kilroy's point in the 38th minute was followed by a brilliant goal and suddenly it was game on. A mighty run from Cathal Cregg (a player re-born this year), Diarmuid Murtagh knew it was a chance. He raced goalwards and pointed to where he wanted the pass. Cregg left it on a plate for him and the St Faithleach's man drilled it to the net low and accurate. Hard to believe it was the first goal he ever scored in inter-county championship football. I was delighted for him because he is a class act.
But now the heroes were emerging all over the field, Ronan and Niall Daly were like two gun-slingers sent into town to root out any trouble makers. If one didn't get you the other did! They were tremendous.
Davy Murray was immense. He tackled and hustled and harried a succession of Galway attackers who must have been sick of the sight of the Pearses man by the time the game was over. Tadgh O'Rourke and Shane Killoran were winning most of the 'dirty ball' in the middle of the field now. I was thrilled for them because the performance of the midfield area was much-critisised in recent months. Killoran scored an inspirational point with 10 minutes to go having burst through three Galway men. Then Tadgh O'Rourke made a spectacular catch near the end of the game just when the pressure was on. Enda Smith's presence was so important all through and Conor Devaney was a huge loss when he went off as he was really playing well.
Darren O'Malley's role in this Roscommon team often goes unmentioned. He has been cool, calm and ultra-reliable all through this campaign. A save he made in the final minute of injury time was much harder than it looked. He's a class golfer. He is a class goalkeeper too.
Then there is Conor Cox. What a find he has been this year. He kicked five mighty points last Sunday but his 10th minute point is one that will be talked about for many a year to come. He was pushed out towards the side line, and the end line as well. He was no more than three yards from the end line. He decided to swing a left peg at it and it flew between the posts. It was an outrageous score from a seriously talented player. Tony McManus or The Gooch would have been very happy with that one and I cannot give higher praise than that. What a player Cox is.
Roscommon simply bullied Galway into submission playing with intensity, a huge work-ethic and no little skill. The Tribesmen were a huge disappointment in that second-half and their return of a paltry two points was an indication of their limp response to that Roscommon tsunami.
This magnificent Roscommon team can now take their place as one of the best we have seen in 40 years and they have given the people of Roscommon some entertainment and pleasure. A Division two league title, two promotions into division one, a spectacular run in division one that featured four away wins, two Connacht titles, beating Galway away in one and Mayo and Galway away in the other and now two appearances in the Super 8's. It's a magnificent record and the players and management should be very proud.
There is more to come too. With the exception of Dublin, no team left in the championship will want to face this Roscommon team. The fact that the opening game in the Super 8's is at home is an even biggest boost.
I was reminded of a famous quote from BBC commentator Kenneth Wolsenhome last Sunday from the World Cup final in 1966 when the Roscommon crowd ran on to the pitch before the game was over. He said "There's people on the pitch, they think it's all over" then Geoff Hurst crashed home England's fourth goal. "It is now" he said.
Last Sunday when the Roscommon crowd were cleared Conor Cox lofted over a 30 meter free with the outside of his boot to give The Rossies a four point lead. It was indeed all over.
To see the people of Roscommon flood on to the pitch in Pearse Stadium to dance and sing and celebrate with the players and to see Enda Smith hoist the Nestor Cup into the Salthill air was something that I will remember for many, many years to come.
A truly magnificent day by the seaside.
Key Moments
First-Half
• On a showery, windy day conditions were tough for the players, but Roscommon were ahead in the 3rd minute when Conor Devaney pointed after a great knock-down from Enda Smith
• But Galway were winning a lot of ball in the middle third, and Michael Daly lofted over the equaliser from 30 meters two minutes later. Then Ronan Daly and Antaine O Laoi exchanged points from play to leave it level again after 7 minutes.
• Galway were beginning to dominate, and they had the two next scores as Shane Walsh and Fiontain O Currain pointed from play to leave the home side two ahead by the 9th minute.
• In the 10th minute Roscommon narrowed the gap with an outrageous point from Conor Cox. The full-forward was shunted out towards the side line and the end line too, but he swung a left boot at it and it flew between the posts. One of the scores of the year in the championship.
• A minute later a pointed free from Shane Walsh extended the Galway lead again but a Cox free and a beautiful score from Diarmuid Murtagh after a great run and turn, saw the sides level at 0-5 apiece after 20 minutes.
• Roscommon were dealt a severe blow in the 25th minute when Conor Devaney had to go off with an ankle injury. The Kilbride man was playing very well to that point.
• But Galway took over completely from there to the break. O Laoi pointed again in the 28th minute, and as the rain began to pour down, Walsh added another pointed free in the 31st minute.
• Galway added three points within three minutes before half-time from Eamon Branagan (on as a sub for the injured O Corraoin), a Michael Daly free and a super point from Gareth Bradshaw from 40 meters. It left the home side ahead by five at the break and looking good with the elements to come in their favour in the second half.
Half-Time Score: Galway 0-10 Roscommon 0-5.
Second Half
• Roscommon came out a completely different side and Niall Kilroy fired over in the 39th minute following a five man Roscommon move.
• Less than a minute later the goal that Roscommon needed to kick-start their challenge came. Cathal Cregg did the spadework powering away from his man. Diarmuid Murtgh made a brilliant sniping run inside and when he pass came he hit it low and hard into the corner. It was a great goal and now Roscommon were back in business.
• Conor Cox powered over another mighty point a minute later and the sides were level. You could see that Roscommon tails were now up as the Galway challenge visibly wilted.
• There were ten scoreless minutes before Diarmuid Murtagh lofted over a close range free and Roscommon were ahead for the first time in the game with 51 minute gone.
• Michael Daly's point levelled the scores in the 56th minute but the Tribesmen were living off scraps and Roscommon were growing in confidence. They were winning all the major battles all over the field.
• Roscommon then scored two inspirational points. First, Niall Daly burst forward to cap a brilliant individual display with a fine point in the 58th minute, and two minutes later Shane Killoran shook off the attentions of three Galway men to point from 25 meters
• Roscommon were driving on now, and Diarmuid Murtagh pointed a free in the 66th minute to increase the gap to three.
• In the 3rd minute of injury time Darren O'Malley was called into action and he saved a long-range free well at the expense of a '45 which was pointed by Shane Walsh.
• In the 74th minute Conor Cox kicked another peach of a score into the breeze from 30 meters as the Roscommon fans gathered on the Pearses Stadium side line.
• When the ball went dead in the 76th minute many Roscommon supporters thought the game was over and they raced on to the field to celebrate. But in fairness to referee Barry Cassidy he waved the spectators off and when play resumed the irrepressible Cox won a free for himself which he pointed from 25 meters with the outside of his right boot. Now it was over and the Rossies fans could celebrate. They certainly did that!
Final Score Roscommon 1-13 Galway 0-12.
Teams and Scorers
Roscommon: Darren O'Mally; David Murray, Seán Mulloly, Conor Daly; Niall Daly (0-1), Conor Hussey, Ronan, Daly (0-1); Tadhg O'Rourke, Shane Killoran (0-1); Conor Devaney (0-1), Cathal Cregg, Niall Kilroy (0-1); Diarmuid Murtagh (1-3, 2 frees), Conor Cox (0-5, 2frees), Enda Smith. Subs: Hubert Darcy for Devaney ( 25); Colin Compton for Smith (57) ; Cian McKeon for Cregg (61); Andrew Glennon for Murtagh (68) ; Brian Stack for Killoran (73).
Galway: Ruairí Lavelle; Eoghan Kerin, Seán Andy Ó Ceallaigh, Liam Silke; Gary O'Donnell, Gareth Bradshaw (0-1), John Daly; Thomas Flynn, Fiontán Ó Curraoin (0-1); Shane Walsh (0-4, 2 frees, '45′), Michael Daly (0-3), Johnny Heaney; Antaine Ó Laoí (0-2), Ian Burke, Peter Cooke. Subs: Eamonn Brannigan (0-1) for Ó Curraoin (21); Seán Kelly for Cooke (53) ;Cillian McDaid for Heaney (60) ; Adrian Varley for J Daly (62) ; Martin Farragher for Burke (68); Kieran Molloy for O'Donnell (74).
Referee: Barry Cassidy (Derry)
Stat Attack
Wides: Roscommon 6 (5 first-half) Galway 5 (1 first-half)
Red Cards: None
Black Cards: None
Yellow cards: Roscommon: 3 (Sean Mulooly, Niall Daly, Ronan Daly) Galway 7 (Ian Burke, Peter Cooke, Liam Silke, Eoghan Kerin, Shane Walsh, E Branagan, Sean Andy O Ceallaigh)
Man of the Match: Davy Murray (Roscommon)
Scores From play: Roscommon 1-9 Galway 0-8
Attendance: 17,639
What's Next: Roscommon play in the Super 8's- 1st game in Dr Hyde Park on the weekend of the 13th and 14th of July( against a qualifier). Dublin are also in Roscommon's group (assuming they win the Leinster final next Sunday) and Roscommon will face the Dubs in round 2 on the weekend of July 20th/21st.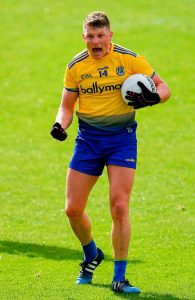 What They Said
Kevin Walshe (Galway Team Manager)
"In the second half we just didn't seem to get our hands on the ball. We overturned the ball maybe two or three times at the start of the second half, when we were attacking, and the next 20 minutes we didn't seem to get our hands on it"
"They seemed to be winning all the breaking ball and running at us. We certainly weren't as good defensively in the second half. We'll have to evaluate it during the week. One thing for sure is it wasn't a consistent performance."
"I don't think it was one of the reasons, because there's a lot of guff out there about that (defensive set-up) .At the end of the day we didn't get our hands on the ball when we needed to. There was no different structure in the first half compared to the second half"
"We've had our chat in there. Whether a change in mindset in being able to get the dirty ball and whatever it is, but when you don't have the ball you defend space, and when you have it you attack space and that's what the boys did in the first half. Ten points in the first half was good in these conditions, so there were no different instructions for the second half but you need to get your hands on the ball"
"It's three weeks now before the next match. We've club football next weekend as well here, so we've two weeks after that and we'll have to see who comes in the draw. But at this moment it's raw, and there's no point in saying too much about that. Certainly after a week is over and they get the club out of the way, lads, I'd be hoping, will be ready to come back and try and put this right." he concluded.
Anthony Cunningham (Roscommon Team Manager)
(Who was celebrating his 54th birthday)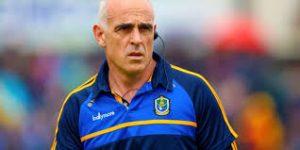 "The second half we showed tremendous courage, you would have to use the word courage. The players really went for it. It was looking a bit rocky there ten minutes before half time"
"We dropped off and Galway punished us. They just nailed on five points. And if the wind came up that was going to work against us as well. We just asked that they worked harder (at half-time)"
"I'm delighted for the players. We've a good bit of improvement to do as you will probably tell me. And you're right. But we will settle down now after a few days and focus on the Super 8s."
"It is just an honour for me. I love being involved in team management and trying to make a contribution. I have to say Iain Daly and Mark Dowd I have two tremendous coaches with me and I'm lucky. They are tremendous workers. There is no end to the amount of work they do. And we set up with a lot of work in the gym as well and that might have been missing a bit (in the past)."
"Winning the breaking ball was poor in the first-half, we had a lot of turnovers against us as well. Conditions were tough. We needed to settle down and show more composure. We had a chat about it at half time and got to the pitch of the game and competed a lot more for kick outs. We put a lot more pressure on Galway. I think we forced it in the last ten minutes of the first half. (We needed) to get back to our game plan and stick with it and look to attack up front."
"The Mayo match was a great confidence boost and when we were in trouble there today they went back to that reservoir and said: we have done this before. We haven't conceded a goal yet. We were rocked by Galway there before half-time and they are a top-class team"
"But our lads were a credit and right through the Daly brothers, Conor Hussey, Shane Killoran at midfield, Tadhg (O'Rourke) there with a great catch at the end too. So the middle third was vital and then we used the ball more intelligently up front. And Diarmuid (Murtagh) slipped a goal which really put us in the driving seat. I'm so delighted for everyone and especially the loyal Roscommon fans" he concluded.
Enda Smith (Roscommon Captain)
"An incredible win surely. It wasn't looking good at half-time but we really dug it out in the second -half. We went back to basics, we ran the ball got the right people on the ball and we got the scores."
"In recent Connacht finals it was us who came out of the traps quickly but that wasn't the case today and at half-time there was panic or any roaring and shouting. We just stressed that we would work on what we had done the last couple of weeks in training"
"In the 15 minutes before half-time we were forcing the kick-passes and that was costing us and that was partly due to the conditions so we want back to basics in the second half and it paid off"
"The two teams played better against the breeze today. We got the goal at the vital time too and we kicked on from there. To beat Mayo and Galway to win a Connacht championship doesn't happen too often and it's a tremendous honour to be captain here today"
Tadgh O'Rourke
"We knew that we were still in it at half-time. It was the exact opposite of the situation last year. They came back last year so we knew we had it in us to turn it around. It was just a matter of coming back out and get the attitude right and we did that"
"You can talk about tactics and set-plays all you want but heart and determination is so important in this game. We started to win the ball in the second half and it turned in our favour. When you have the lads that we have all they need is a sniff and when we got the chances we took them"
"It's a tremendous win, we are always looking to improve and remember this is a young team and we are only building. We have to use the experience that we have had in the past and learn for the future and hopefully we will have many more days like this. We will enjoy this tonight and this week and then we will concentrate on the Super 8's"
Ronan Daly
"We knew that we were up against it at half-time. We threw caution to the win in the second-half. We had to attack tghem and go at them and we did that. We were struggling in the first half to get the ball up the field to the forwards"
"Once we started to take Galway on the ball started to stick up front and we were causing them problems. We improved defensively too and we put more pressure on them"
"We put more emphasis on getting in under the breaking ball which was very important and we used the ball far better in the second half and we weren't giving it away stupidly. It's great to beat Galway and Mayo to win the Connacht title but we are not finished yet and it's on to the Super 8's now"
Kevin McStay
"So where can Roscommon go with this? Five Connacht finals in four years mean they are not newbies. They have two titles out of four attempts, which is above the Rossie's mean average. The challenge now is to perform but it may not be this year that we see the best of this group. The two teams I would hate Roscommon to meet between now and the end of the year are Mayo and Galway. Mayo, in particular, are just more grizzled and experienced"
"Roscommon's massive ambition for 2019 would be an All-Ireland semi-final. So when can they burst through this glass ceiling and dream the impossible with conviction? Well, when they perform and compete seriously at the Super Eights level. They are in a different space now and the championship is opening up for them"
(Irish Times)
"He's one of them players, sometimes, I'd just love to shake him because whenever he does something he does it so well, he's got that physicality, he can win a kick-out. Then he'll take off like a bullet and put one into the net.
"Sometimes then he'll drift off out of the game then, and you'll be wondering what he's doing. Then somebody pokes him and he's off doing something similar again. Anytime he does something, it seems to have a huge effect on Roscommon, he seems to be a great lad. He has all the skills."
"When you're playing against him – you're just thinking, I hope this lad doesn't take off and go past me. He's a bit like Shane Walsh in Galway, he definitely deserves a chance to shine in the Super 8s and Roscommon – they can be competitive this time around."
(Tyrone's Sean Cavanagh talking about Enda Smith and Roscommon on Sports Joe)
Connacht Final Snippets
• It's Roscommon 24th senior title and it's the first time since 1972 that the Primrose and Blue beat Galway and Mayo away from home to clinch the title.
• Irish Independent Chief GAA writer Martin Breheny covered his last Connacht SFC final last Sunday after 45 years. There was a small presentation made to the Barnaderg man in the press-box prior to the final.
• Roscommon team manager Anthony Cunningham celebrated his 54th birthday last Sunday.
• The Leitrim team that won the Connacht senior title in 1994 were the special guests at the Connacht final. They beat Roscommon, Galway and Mayo to win that title.
• As a manager Anthony Cunningham has now won provincial titles in senior hurling and football in two different provinces.
• "The GAA scene has been nothing short of dramatic for the last few weeks but last weekend was particularly juicy with the Galway and Clare hurlers exiting the All-Ireland and Roscommon coming from behind to beat Galway in their own backyard in the Connacht SFC. Roscommon are now 40/1 from 80/1 to land their first All-Ireland title in 75 years with 10/1 available for them to reach the final, cut from 20/1"(Boylesports)
From The Roscommon People.